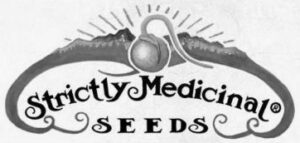 Solomon's Seal, Scented (Polygonatum odoratum), packet of 10 seeds
$3.95
Family: Lily (Liliaceae)
Hardy to Zones 4 to 8
Herbaceous perennial forest dweller native to Europe, Russia and China.  Pendant  flowers, white with green tips, occur all along the gently arching stem which rises to 3 feet tall. Traditional use (TWM): a demulcent herb used as a poultice for treating joint pain.  Plant prefers moist to mesic, loamy or clay soils in the sun-dappled shade.  Sow in fall.  Multi-cycle germinator is best sown in the shadehouse or given 12 months cold, moist refrigerations (seeds mixed in moist sand in a plastic bag), then planted once the seeds produce rootlets.  Space plants 1 foot apart.
10 seeds per packet
Out of stock
Share your thoughts!
Let us know what you think...