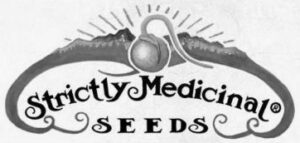 Pepper, Thai Classic (Capsicum frutescens), packet of 20 seeds, organic
$2.95
Family:  Solanacea
Annual or perennial cultigen,  ~70,000 Scoville heat units
Open-pollinated cultivar matures in 120 days.  Flat-topped bush to 3 feet tall produces upright fingers of pointy, thin peppers, often purple when immature.  They mature and dry to a dark red, fiery-hot, thin-skinned chili as often seen in Thai cooking.  Standard pepper culture.  Start in greenhouse in March and transplant 2 to 3 feet apart once soil has warmed.  Full sun, fertile soil, watering often and shallowly.
20 Seeds/pkt., Certified Organically Grown
Out of stock
Share your thoughts!
Let us know what you think...