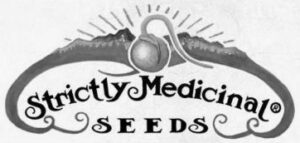 Pepper, Aji Panca (Capsicum chinense), packet of 20 seeds, Organic
$4.95
Family:  Nightshade (Solanaceae)
Perennial in Zones 10-12, otherwise grown as an annual, 85 days from planting to the garden to maturity of the peppers
~500 Scoville Heat Units
(Panca Chile) Native to coastal Peru and used extensively in Peruvian cuisine. The fruits are up to 5 inches long, thick-fleshed, sweet, fruity, turning deep red at full maturity, commonly dried before use.  Used in preparation of mole, condiments, stews, sauces and protein dishes.
Cultivation:  In general peppers prefer a scanty, even water supply, good drainage, full sun, and as long and hot a summer as they can get. Start indoors 40 to 50 days prior to the last frost. Thin seedlings to at least 2 inches apart in the flat. Transplant out to garden after the soil has really warmed up, or if in short-season areas, grow in the greenhouse. The best compost for Peppers is higher in phosphorous than nitrogen. Kelp is well-tolerated and makes for outrageous yields.
20 seeds per packet, Certified Organically Grown
Traditional usage (TWM): flavor enhancement, circulation stimulant, antibacterial, vermifuge, against shock, life extension, prophyllactic to cancer and heart disease.*  Source of capsaicin.
* American Heart Association Scientific Sessions Report, Presentation P1036
Consumption of chili pepper may reduce the relative risk of cardiovascular disease mortality by 26%, according to an analysis of diet and mortality data from four large, international studies.
Chili pepper consumption was associated with a 25% reduction in death from any cause and 23% fewer cancer deaths, compared to people who never or only rarely consumed chili pepper.
In stock
Share your thoughts!
Let us know what you think...