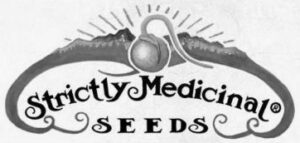 Corn, Tom Thumb Popcorn (Zea mays), packet of 100 seeds, organic
$2.95
Family:  Grass (Poaceae)
Annual.  85 days to maturity
(Tom Thumb Popcorn) Miniature popping corn, suitable for gardens with limited space, children's gardens, or for anyone wanting to grow (and eat) popcorn.   Plants top out at 3 feet. Expect 1 or 2 ears per plant.  Ears are very cute–about 3 inches long.  Corn is bright golden yellow.  Plant 3 seeds per foot and make the rows 2 to 3 feet apart.  Thin plants to appx 1 foot apart.  Corn pollinates best when grown in a patch containing several rows–not in a single line.  Once the corn is ripe (the silk will dry back and the husk will go from green to tan), then pick the ears, peel off the husks, and dry thoroughly on screens in an airy location.  Protect from birds and rodents.  Once thoroughly dry, remove the grain from the cob, store in glass jars, and pop in the usual manner.
100 Seeds/pkt, Certified Organically Grown
In stock
Share your thoughts!
Let us know what you think...