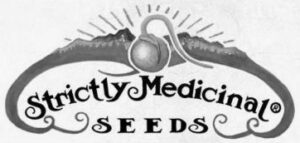 Bean, Midnight Black Turtle (Phaseolus vulgaris), packet of 30 seeds, organic
$2.45
Family:  Legume (Fabaceae)
Annual bush bean.  90 to 100 days to maturity.
(Midnight Black Turtle Soup Bean) Sow 2 rows per 4 foot wide raised bed, or if row cropping sow seeds 6 inches apart in rows 4 feet apart.  Wait until pods go crispy dry before harvest.  Easy to separate and winnow, these are among the most productive of protein sources for both gardeners and small farmers. We allow these to mature on the bush, and then just before frost we pull up the bush, which is easy to do, shake off the dirt from roots, which are small, and hang the plants in shed or under eaves to dry completely before threshing and winnowing.  Latin America, they are a major staple food.  Turtle Beans are among the least allergenic of all bean types.
30 Seeds per Packet, Certified Organically Grown
Out of stock
Share your thoughts!
Let us know what you think...