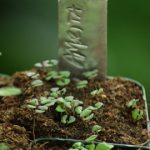 Tulsi grows best in the summer garden or in a greenhouse environment.  Lacking these conditions, a solarium or very bright south facing window may be adequate.  Growing Tulsi during the winter will require grow lights.  You can purchase T-5
grow lights online that will work quite well.  Keep the light 18 inches above the top leaf, and keep the light on the plants for at least 8 hours per day.  Keep plants nipped back if they get leggy or go to flower very quickly.
It works best to plant 1 plant per gallon pot.  If the plants are potted up with organic compost, then they should have enough nutrients to stay healthy for some time.   If they begin to yellow or look unhealthy, then fertilize once every 2 weeks with compost tea, comfrey leaf tea, dilute fish emulsion or other organic liquid fertilizer, or heap additional organic compost around the stems and water through the compost to feed the plants.  This is a good way to keep some healthy individuals for worship or for ongoing harvest for fresh leaves or for tea.